AAUW advances equity for women and girls through advocacy, education, philanthropy, and research.  AAUW of Southwest Dallas County is an affiliate of the national organization. Men are welcome to join and participate in any AAUW activities.
Currently this branch is not active, but we welcome any new members because our dues  support the work of national and state AAUW. If you would like to take a role to bring the branch back to active status, that would be wonderful! Please see the ABOUT US page for contact information.
Our branch  focus was on educational activities for middle school students.  See the STEM projects topic on the ACTIVITIES page for more details about programs we organized. The page of STEM resources  is no longer being updated, but most of the sites listed do update their content.
We used to hold our general meetings and our STEM programs at  the  Museum of International Cultures, 411 Hwy 67, Duncanville.  However, that museum has closed and we no longer hold any regular meetings.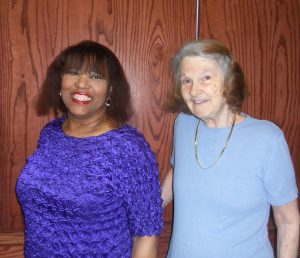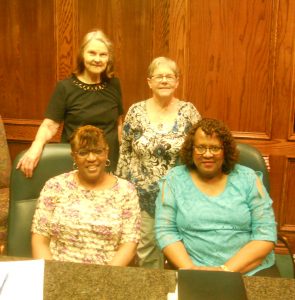 Left:  2017-2021 Officers:   President Marilyn Barnes   & Treasurer Penny Ball.
Center:  2016-2017 Officers Penny Ball & Yvette Branch meet with Museum Director Mary Fae Kamm.
Right: June 2019 meet with North Texas Interbranch officers Gloria Long (back, right with Penny) & Barbara Cager (seated, right with Marilyn)